Treat Olympic medalists' sore muscles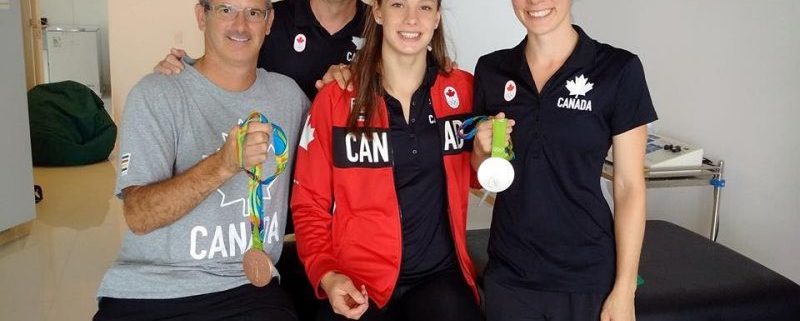 Yanic Szöghy could not have hoped for a better birthday present. A few days after his 50th birthday, he flew to the Rio de Janeiro Olympic Games as a massage therapist for the Canadian swimming team. 
Providence has certainly stood on the side of Yanic Szöghy who got the chance to live in the Rio atmosphere.  At the time of going to press, Canadian swimmers had won five medals. The last time that the team had swept as many swimming podiums was at the 1984 Games. Prior to the Games, Marianne Limpert was the last Canadian swimmer to win a medal in 1996.
«This is one of the most beautiful experiences of my life. The atmosphere is wonderful. We almost had a heart attack the other day when we thought Santo Condorelli would win his race", said Yanic Szöghy in an interview via Skype. We attract the curiosity of all. People from other sports came to see the swimmers at the pool.»
Despite all the excitement, Mr Szöghy does not lose sight of his primary mission; provide valuable support to the athlete. "We are five, two physio and three massage therapists, I am the rookie of the group. Everyone brings something different. It is the athlete who is imporant and we try to remain in the shadow", adds the man who owns the Centre Kinesis in Saint-Lambert.
Yanic Szöghy and other therapists assigned to the swimming team must do their work at the Canada House in the Olympic Village. Busy during the day but free at night to attend the competitions at the pool. By the way, he can see some celebrities. "I was next to Usain Bolt, but I did not have a camera. Now I drag it around. In addition, the other night I sat in the stands next to the brother of swimmer Penny Oleksiak, Jamie, who is a defender for the Dallas Stars. I took a picture this time'."
Great involvement in sport
Born in Montreal from a Hungarian father who immigrated to the country in the 1950s, Yanic Szöghy was himself a swimming enthusiast. He competed in Canadian Olympic trials, but was ranked 20th. He also coached water polo for the Quebec and Canadian teams. He then attended major international competitions, including the FINA World Championships and the Toronto Pan Amercian Games in 2015 as a massage therapist.
"Since I was in the Pan Am, I had a good feeling that I might be called to go to the Games. I was happy when I leanred that I could go. In return, I thought this was bad news for my spouse who would not have a vacation. She told me to go", said Yanic Szöghy whose mandate in Rio ends August 13.
Mr. Szöghy would be ready to relive this adventure in four years in Tokyo. "I might, however, try to arrange a vacation afterwards with my spouse."
https//www.infodeste-julie.qc.ca/sports/2016/8/12/spo-rio-phsyio.html
https://centrekinesis.com/wp-content/uploads/yanolympique.jpg
533
800
Yanic
https://centrekinesis.com/wp-content/uploads/logo-pour-site-web-300x300.png
Yanic
2016-11-11 13:43:50
2016-11-19 17:10:32
Treat Olympic medalists' sore muscles